Okay, I wasn't going to bring this up. Still relatively new to the business, I figured it was just me it was happening to, but after visiting other open houses, including one for agent Tricia King that prompted this editorial, I realize its at epidemic stage. What am I talking about? It's the sudden inability of open house visitors to write legibly when completing the sign-in sheet. Mind you, these are seemingly reasonable and dare I say, normal people but something happens. I have never seen the english alphabet so destroyed as when it comes to open house sign-in sheets—incomplete "2s" that resemble backwards "6s" or maybe it's a lower case "J." You've got small "Rs" that could be "Ns." And the number "8" is open to myriad interpretations. I see names, phone numbers and email addresses with manuscript resembling a mix of two or more foreign languages that often lead to nowhere. As I view them week after week it's clear that something mysterious is going on and any attempt to locate even a modicum of consistent legibility is hopeless.
I started keeping notes to see if it happened more in older houses than in newer ones, thinking maybe there were unseen spirits guiding hands and courageously fighting the sale of their beloved old estate. But alas, whether an old victorian or new construction the illegibility attending sign-in sheets was consistent across residences. With no obvious supernatural forces at work I had to begin to consider more natural causes. Of course, I couldn't help but wonder whether this sudden shaky handedness was more a result of open house signees not really wanting to be contacted by that pesky realtor person so they hastily complete the task. A tactical move. They simply wanted to see the house and get away clean. Not satisfied with that assumption I queried others with many more years experience than I about this strange happening. "I think you're right," says broker David. "LOL, totally agree," says agent Linda. She even has a sign that reads "Seller requests all guests register," hoping for a different outcome with the entreaty coming from the seller.
Look, I want to keep this light and easy. The last thing I want to do is dump on potential clients, but I get it. There are some pesky, high pressure realtors out there and the last thing you want is another intrusion into your day so you scribble something down. I can't speak for other agencies but without a whole lot of fanfare, that's not the Gardner style. At Gardner it's about building relationships; it's a series of tasks done every day that keep Gardner agents top of mind when our friends think real estate. The sale is simply a natural by product of these daily activities. Sure, I'm going to call you a couple of days after the open house to thank you for coming and find out if you have any questions about the house. You should expect that but no pressure. At the end of the day the buying and selling of property is very often a complicated process. At the very least situations will arise that must be managed by someone who has traveled that road before. And if you know like me this is when you'll want a super agent like Tricia King in your corner. Now, would you mind signing in please?
Are you in the market to buy a home? With inventory at a low and as demand for housing continues to grow, you must be as efficient as possible in your search.
What if I told you that I can help you find an amazing home that you will be happy creating a life in and, at the same time, make sure that you don't miss anything or pay too much for it? Sounds great, doesn't it? Well, you're in luck, because at GARDNER, REALTORS, we have a process that will help us do just that. This method is called the Funnel Process, and today, we'll dive into how it works.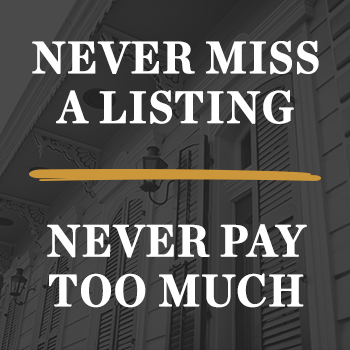 Let's start with any properties that you have already found. If you're like the majority of Americans, you began your home search online. Do you have some homes that you've already found while cruising the web? If you haven't, GardnerRealtors.com and the Gardner Realtors Mobile App give you the ability to "heart" your favorite listings, keeping them in one, easy-to-find and manage location. Or maybe, while driving/walking around town, you've noticed some "For Sale" signs in the front yards of homes that have caught your eye.

So now, we'll put the properties that you've already found into the funnel. We'll also add in any properties from the MLS, any new constructions, and any "For Sale By Owner" properties that could potentially satisfy your home buying wants and needs. For this part of the Funnel Process, we want to be a bit broad, putting in any property that could work for you so that we don't miss a thing.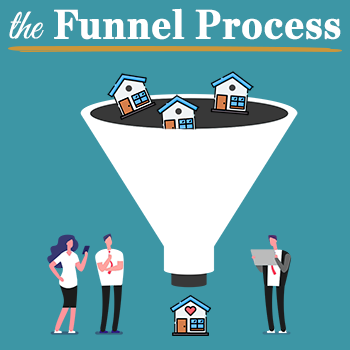 Now that our funnel is full, and we feel confident that we have looked under every proverbial Real Estate stone, we can begin to narrow down your options. What was it about these certain properties that attracted your attention? Was it the size, or the location, or the amenities? Was it the proximity to restaurants, retail, or a certain school district? Did it have a large yard, or was it located on water or a golf course? By nailing down your top priorities, we can better use the funnel to get the properties that truly work uniquely for you.
These answers can quickly reveal your true motivations for buying a home, and they will create a filter for the funnel. This filter will now serve as our process of elimination, leaving out any properties that don't meet your wants/needs and allowing the funnel to produce a "rolling top three" properties. You can see that we are beginning to zero in on homes that include all the things you have on your priority list (we'll refer to it as rolling because we can easily drop/add from your top three). With these top homes, we can run a market analysis to compare these properties to other similar listings in the same local markets. We can then dive into the listings online, drive by them, and even set up appointments to take a tour.
As you can see, this Funnel Process started with lots of homes that you liked, but by the end, we narrowed it down to a select few (three) that fit your wants and needs, homes that you can see yourself creating a life in. And at the end of the day, this process gives you the peace of mind that not only did we leave no stone unturned, ensuring that we didn't miss any property that could work for you, we also did a Comparative Market Analysis to make sure you don't pay too much.
Ready to get started? Contact me today, and let's start the process to create the life you love!